1 set pasfoto's
4 pasfoto's
Digitaal
je foto in de cloud
Print en digitaal
print en digitaal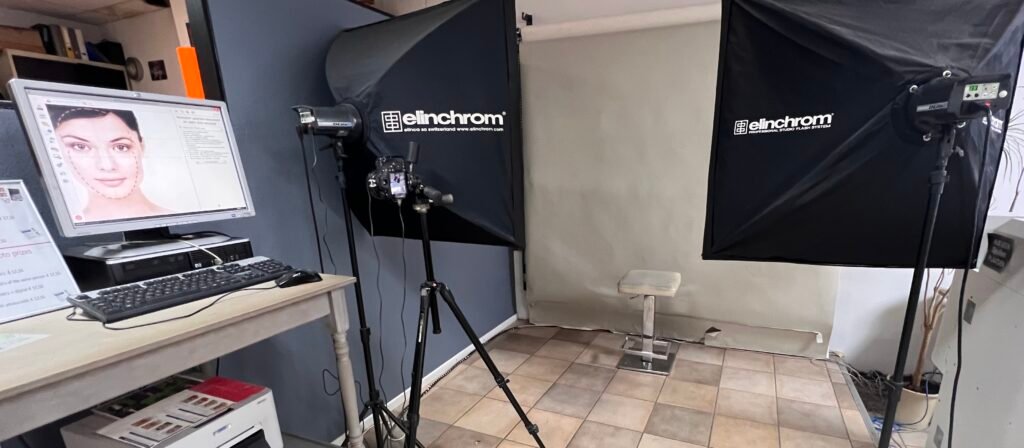 Pasfoto maken in Delft
Zoek je een plek om een pasfoto te maken in Delft? Bij ons zit je goed! Of het nu gaat om een paspoort, rijbewijs, of identiteitskaart, wij zorgen ervoor dat jouw pasfoto aan de strenge eisen voldoet. Sinds 2006 worden er hoge eisen gesteld aan pasfoto's bij officiële documenten en wij begrijpen het belang hiervan. Daarom maken wij gebruik van geavanceerde software die real-time de kwaliteit van de pasfoto controleert en automatisch biometrische functies toepast. Dit betekent dat je vrijwel nooit meer een afgekeurde pasfoto zult hebben. Loop binnen zonder afspraak en laat ons jouw perfecte pasfoto maken in Delft!
Voldersgracht 16
2611 ET Delft
015-2616361
Onze winkel is geopend op de volgende tijden:
Maandag: 13:00- 17:30
Dinsdag t/m zaterdag : 10:00 -17:30
Zondag gesloten
Digitale pasfoto maken in Delft
In verband met de privacywet GDPR, (De General Data Protection Regulation) mogen wij de digitale versie van uw pasfoto niet meer per email versturen, omdat het versturen van de pasfoto's niet veilig wordt bevonden moeten wij uw digitale pasfoto op een beveiligde server binnen de EU opslaan.
De pasfoto blijft 6 maanden beschikbaar voor u om te downloaden. U ontvangt van ons een papieren foto code waarmee u kunt inloggen op de beveiligde website om uw foto te downloaden. Na 6 maanden wordt de foto automatisch verwijderd. Uw foto wordt niet gedeeld of op een andere manier gebruikt zonder uw toestemming. De toegang is beperkt tot de houder van de foto code.
Ook van baby's en kinderen kunnen wij een pasfoto maken in Delft die gegarandeerd goedgekeurd wordt. Wij maken pasfoto's voor alle officiële documenten zoals o.a. paspoort,bromfiets rijbewijs, rijbewijs, identiteitskaart, verblijfsdocumenten en OV-jaarkaart.
Bij ons kunt u zonder problemen terecht voor maken van een Pasfoto in Delft met een afwijkende maat. Onderaan de website staat een lijst met alle landen en documenten waarvoor wij pasfoto's kunnen maken.
Dutch Government passport photo and residence document photo are one of the strictest and the hardest to produce in the world. We use a fully equipped professional passport studio and the latest biomatric software to produce the biometric standard Dutch Passport Photos. You don't have to book an appointment with us for your Passport Photo. In our shop at the Voldersgracht 16 in Delft we can take a passport photo that meets all the Dutch requirements for your IND document,residence document or residence Card. You are also welcome for a passportphoto needed for any visa
Online verlengen van je rijbewijs 
Fotobister is een RDW Erkend Fotograaf. Dat houdt in dat je bij ons een digitale pasfoto kunt laten maken voor het verlengen van je rijbewijs en dat we deze gelijk voor je kunnen uploaden in het systeem van de RDW. Dit kan allemaal zonder afspraak tijdens onze reguliere openingstijden.
Prijs:
€ 17,50 hierbij zit een digitale versie voor eigen gebruik en 1 pasfoto inbegrepen
Hoe werkt het aanvragen?  
Kom langs in de winkel en vergeet niet je rijbewijs mee te brengen.
Je maakt bij ons de pasfoto voor de RDW
Wij uploaden de foto veilig naar de RDW, waar deze gecontroleerd wordt
Je zet gelijk uw handtekening, zoals deze op het rijbewijs komt
De RDW stuurt je een mail ter bevestiging en kunt nu de instructies verder volgen
Met je smartphone en Digi-iD app rondt je de aanvraag af
De RDW maakt je rijbewijs en je ontvangt een email als het rijbewijs klaar ligt bij de gemeente
Voor meer informatie over het verlengen van uw rijbewijs kunt u hier klikken
Veel gestelde vragen over een pasfoto maken in Delft bij Fotobister vind u hier
Afghanistan

Passport (40×45 mm)
Passport (50×50 mm)
Visa (34×40 mm)
Visa (35×45 mm)

Albania

Algeria

Angola

Argentina

Passport (40×40 mm)
Visa (40×40 mm)

Armenia

Australia

ASIC (40×50 mm)
Bus & Taxi License (65×65 mm)
Child's Passport (under 3) (35×45 mm)
Passport (35×45 mm)
Visa (35×45 mm)

Austria

ePassport (digital format) (413×531 px)
Passport (35×45 mm)

Azerbaijan

Visa (30×40 mm)
Visa (35×45 mm)

Bahamas

The Bahamas Maritime Authority (BMA) (207×266 px)

Bangladesh

Child's passport (photo of a parent) (25×30 mm)
Passport (35×45 mm)
Passport (40×50 mm)
Passport (45×55 mm)
Visa [~RU] (37×37 mm)
Visa [~RU] (35×45 mm)
Visa [RU] (30×40 mm)

Belarus

Passport (40×50 mm)
Visa (35×45 mm)

Belgium

Child's Passport (under 6) (35×45 mm)
Passport (35×45 mm)

Brazil

Enterprise ID Card (20×20 mm)
eVisa (digital format) (413×531 px)
ID Card (30×40 mm)
Passport (30×40 mm)
Passport (35×45 mm)
Passport (50×70 mm)
Social Club ID Card (20×20 mm)
Visa (30×40 mm)

Bulgaria

Cambodia

Passport (35×45 mm)
Visa (35×45 mm)
Visa (digital format) (400×600 px)
Visa [FR] (40×60 mm)

Cameroon

Passport [NL] (40×40 mm)
Passport [NL] (40×50 mm)
Visa (35×45 mm)

Canada

Citizenship (50×70 mm)
Firearm License (45×57 mm)
International Experience Canada (Work Permit) (827×1063 px)
Passport (digital format) (1200×1800 px)
Passport [~FR] (50×70 mm)
Passport [FR] (50×70 mm)
Permanent Residence Card (50×70 mm)
Permanent Residence Card (digital format) (2000×2800 px)
Personnel Screening (43×54 mm)
Visa (35×45 mm)
Visa (digital format) (420×540 px)
Visa [NL] (50×70 mm)

Chile

Colombia

Passport (40×50 mm)
Visa (digital format) (600×800 px)

Croatia

Driving License (30×35 mm)
Passport (35×45 mm)

Cuba

Cyprus

Czechia

Driving License (35×45 mm)
ID Card (35×45 mm)
ID Card (digital format) (614×803 px)
Passport (35×45 mm)
Passport (50×50 mm)

Denmark

Job Application (45×60 mm)
Job Application (60×90 mm)
Job Application (89×127 mm)
Job Application (digital format) (450×600 px)
Job Application (digital format) (600×900 px)
Job Application (digital format) (890×1270 px)
Passport (35×45 mm)
Travel Card (544×700 px)

Egypt

Passport (40×60 mm)
Visa (35×45 mm)

Eritrea

Estonia

Child's Passport (under 11) (40×50 mm)
ID Card (40×50 mm)
Passport (40×50 mm)
Passport (digital format) (1300×1600 px)

Ethiopia

eVisa (600×800 px)
ID Card (30×40 mm)
Passport (30×40 mm)
Visa (30×40 mm)

Fiji

Passport (35×45 mm)
Visa (35×45 mm)

Finland

Child's Passport (under 11) (36×47 mm)
Passport (36×47 mm)
Passport (digital format) (500×653 px)
Valttikortti (digital format) (600×800 px)
Visa (36×47 mm)

France

Carte BTP (digital format) (360×468 px)
Carte Circulation Militaire (24×32 mm)
Carte Professionnelle Militaire (24×32 mm)
Carte SNCF (24×32 mm)
Child's Passport (35×45 mm)
Demande de nationnalité française (35×40 mm)
ePhoto – Driving License 35×45 (414×532 px)
ePhoto – Titre de séjour étudiants étrangers 35×45 [FR] (414×532 px)
Passport (35×45 mm)
Student ID Card (20×25 mm)
Work Holiday Visa (PVT) (35×45 mm)

Free Style

Free Style (15×24 mm)
Free Style (18×24 mm)
Free Style (20×30 mm)
Free Style (24×26 mm)
Free Style (25×25 mm)
Free Style (30×30 mm)
Free Style (35×45 mm)
Free Style (50×40 mm)
Free Style (40×50 mm)
Free Style (45×60 mm)
Free Style (50×70 mm)
Free Style (60×60 mm)
Free Style (70×90 mm)
Free Style (89×127 mm)
Free Style (102×152 mm)

Gambia

Georgia

Passport (40×50 mm)
Visa (digital format) (472×610 px)

Germany

AOK Elektronische Gesundheitskarte (eGK) (30×40 mm)
AOK Elektronische Gesundheitskarte (eGK) (35×45 mm)
AOK Elektronische Gesundheitskarte (eGK) (320×411 px)
Chainsaw Operator (35×45 mm)
Child's Passport (under 10) (35×45 mm)
Child's Passport (under 6) (35×45 mm)
Driving License (35×45 mm)
Forklift Operator (35×45 mm)
Heavy Equipment Operator (35×45 mm)
ID Card (35×45 mm)
Job Application (40×50 mm)
Job Application (40×55 mm)
Job Application (43×55 mm)
Job Application (40×60 mm)
Job Application (50×50 mm)
Job Application (45×60 mm)
Job Application (60×45 mm)
Job Application (50×70 mm)
Job Application (50×75 mm)
Job Application (50×80 mm)
Job Application (60×80 mm)
Job Application (60×90 mm)
Job Application (90×60 mm)
Job Application (70×100 mm)
Job Application (70×110 mm)
Job Application (127×89 mm)
Other ID Cards (35×45 mm)
Passport (35×45 mm)

Ghana

Visa (digital format) (600×600 px)

Greece

Driving License (40×60 mm)
Ex Patriot (Omogenis) Card (27×29 mm)
ID Card (36×36 mm)
Military ID Card A (25×25 mm)
Military ID Card B (30×30 mm)
Military ID Card C (35×45 mm)
Military ID Card D (60×90 mm)
Passport (40×60 mm)
Speedboat License (digital format) (450×522 px)
Student ID Card (35×45 mm)

Guinea

Guyana

Passport (30×40 mm)
Visa (30×40 mm)

Hong Kong

Passport (40×50 mm)
Passport (digital format) (1200×1600 px)
Visa (digital format) (1200×1600 px)

Hungary

India

Bohra ITS Card (295×354 px)
OCI (51×51 mm)
OCI (digital format) (600×600 px)
Passport (35×35 mm)
Passport (40×40 mm)
Passport (50×50 mm)
Permanent Account Number (PAN) (25×35 mm)
Persons of Indian Origin (PIO) Card (35×35 mm)
Persons of Indian Origin (PIO) Card (50×50 mm)
Police Clearance Certificate (PPC) (50×50 mm)
Visa (35×45 mm)
Visa (50×50 mm)
Visa (digital format) (350×350 px)

Iran

Passport (digital format) (400×600 px)
Passport (embassy in Washington) (2×2 in)
Passport [~NL,AU] (30×40 mm)
Passport [AU] (40×60 mm)
Passport [NL] (35×45 mm)
Visa (digital format) (400×600 px)
Visa [~NL] (30×40 mm)
Visa [NL] (35×45 mm)

Iraq

Passport (50×50 mm)
Visa (50×50 mm)

Ireland

Passport (35×45 mm)
Passport (digital format) (715×951 px)
Side profile ID (50×50 mm)
Taxi License (70×100 mm)
Visa (35×45 mm)

Israel

Passport (2×2 in)
Passport (35×45 mm)
Visa (2×2 in)
Visa (35×45 mm)

Italy

eID (35×45 mm)
eID (digital format) (551×709 px)
ID Card (35×40 mm)
ID Card (Switzerland, Canada) (30×40 mm)
Passport (35×40 mm)
Passport (35×45 mm)
Passport (Switzerland, Canada) (30×40 mm)

Jamaica

Japan

Alien Registration (35×45 mm)
Passport (35×45 mm)
Visa (45×45 mm)
Work Permit (30×40 mm)

Kazakhstan

Kenya

Visa (55×55 mm)
Visa (digital format) (207×207 px)
Visa (digital format) (500×500 px)

Laos

eVisa (152×227 px)
Passport (40×60 mm)
Visa (50×50 mm)

Latvia

Passport (35×45 mm)
Visa (35×45 mm)

Lebanon

Passport (35×45 mm)
Visa (35×45 mm)

Liberia

Passport (44×51 mm)
Passport (digital format) (693×803 px)
Visa (44×51 mm)

Liechtenstein

Lithuania

Child's Passport (40×60 mm)
ID Card (40×60 mm)
Passport [~DE] (40×60 mm)
Passport [DE] (40×60 mm)

Luxembourg

Malaysia

Passport (35×50 mm)
Restricted Passport to Brunei Darussalam (35×50 mm)
Visa (35×50 mm)

Malta

Mexico

Filiación (35×50 mm)
Passport (35×45 mm)
Student ID Card (35×45 mm)
Titulo (60×90 mm)
Visa (31×39 mm)

Moldavia

ID Card (30×40 mm)
ID Card (100×150 mm)
Passport (100×150 mm)
Visa (35×45 mm)

Mongolia

Passport (35×45 mm)
Visa (35×45 mm)

Morocco

ID Card (35×45 mm)
Passport (35×45 mm)
Visa (30×40 mm)

Myanmar (Burma)

eVisa (898×1087 px)
Myanmar Visa On Arrival (MVOA) (35×45 mm)
Myanmar Visa On Arrival (MVOA) (digital format) (800×1200 px)

Nepal

Visa (digital format) (450×450 px)

Netherlands

Child's Passport (under 11) (35×45 mm)
Driving License (beta) (35×45 mm)
Passport (35×45 mm)
Visa (35×45 mm)

New Zealand

Child's Passport (under 12) (35×45 mm)
Child's Passport (under 12) (digital format) (1800×2400 px)
Driving License (35×45 mm)
Firearm License (35×45 mm)
Firearm License (digital format) (1800×2400 px)
KIWI ACCESS (18+) Card (Evidence of Age) (35×45 mm)
Passport (35×45 mm)
Passport (digital format) (1800×2400 px)
Visa (35×45 mm)
Visa (digital format) (1500×2000 px)

Nigeria

eVisa (350×450 px)
Passport (35×45 mm)
Visa (35×45 mm)

Norway

Oman

Passport (40×60 mm)
Visa (40×60 mm)

Pakistan

eVisa (413×531 px)
Visa (35×45 mm)

Palestine

Passport (Dutch embassy) (35×45 mm)

Papua New Guinea

Philippines

Passport (embassy in Canada) (35×45 mm)
Visa (35×45 mm)

Poland

Child's ID Card (under 11) (35×45 mm)
Child's ID Card (under 12) (492×633 px)
Child's ID Card (under 12) (HQ) (827×1063 px)
Child's ID Card (under 5) (35×45 mm)
Child's ID Card (under 5) (492×633 px)
Child's ID Card (under 5) (HQ) (827×1063 px)
Child's Passport (under 11) (35×45 mm)
Child's Passport (under 5) (35×45 mm)
ID Card (35×45 mm)
Passport (35×45 mm)

Portugal

ID Card (32×32 mm)
Passport (35×45 mm)
Visa (35×45 mm)

Romania

ADR Certificate (A.R.R.) (25×32 mm)
ID Card (30×40 mm)
ID Card (30×47 mm)
Passport (35×45 mm)
Visa (35×45 mm)

Russia

Domestic Passport (35×45 mm)
Driving License (30×40 mm)
eVisa (620×797 px)
ID card for retired persons (30×40 mm)
International Passport (35×45 mm)
Medical License (30×40 mm)
Other ID Cards A (35×45 mm)
Other ID Cards B (30×40 mm)
Pass Card (30×40 mm)
Soldier ID card (30×40 mm)
Student ID Card (30×40 mm)
Temporary Registration (30×40 mm)
Visa (30×40 mm)
Visa (35×45 mm)
Visa (Embassy in Minsk) [RU] (40×50 mm)
Visa (Embassy In Sydney) [EN] (35×45 mm)

Saint Lucia

Saudi Arabia

Passport (40×60 mm)
Visa (2×2 in)
Visa [~NL] (35×45 mm)

Schengen

Serbia

ID Card (50×50 mm)
Military ID Card (30×35 mm)

Singapore

Passport (35×45 mm)
Passport (digital format) (400×514 px)

Slovenia

South Africa

ID Card (35×45 mm)
Passport (35×45 mm)
Visa (35×45 mm)

South Korea

Spain

ID Card (DNI) (26×32 mm)
Passport (26×32 mm)
Passport (embassy Dusseldorf, Manila) (30×40 mm)
Passport (embassy in Berlin) (40×53 mm)
Passport (embassy in Zürich) (35×40 mm)

Sri Lanka

Suriname

Sweden

Driving License (35×45 mm)
Passport (35×45 mm)

Switzerland

Child's Passport (under 11) (35×45 mm)
ID Card (35×45 mm)
Passport (35×45 mm)
Passport (digital format) (1440×1980 px)

Syria

Taiwan

Thailand

Visa (35×45 mm)
Visa (40×60 mm)
Work Permit (50×60 mm)

Trinidad and Tobago

Tunisia

Turkey

Passport (35×45 mm)
Passport (50×50 mm)
Passport (45×60 mm)
Passport (50×60 mm)
Visa (50×50 mm)

Uganda

Ukraine

Domestic Passport (35×45 mm)
Driving License (35×45 mm)
Driving License (digital format) (354×472 px)
International Passport (35×45 mm)
Passport (additional photo) (100×150 mm)
Residence Card (35×45 mm)
Visa (35×45 mm)

United Arab Emirates

Visa (43×55 mm)
Visa (digital format) (508×650 px)

United Kingdom

Child's ePassport (under 1) (600×770 px)
Child's ePassport (under 6) (600×770 px)
Child's Passport (under 1) (35×45 mm)
Child's Passport (under 6) (35×45 mm)
Construction Skills Register (300×350 px)
Driving License (35×45 mm)
ePassport (digital format) (600×770 px)
Passport (35×45 mm)
Visa (35×45 mm)

United Nations

United States

DV-2024 Lottery (600×600 px)
Firearm Owner's ID (FOID) (1,25×1,5 in)
Firearm Owner's ID (FOID) [Illinois State] (2×2 in)
Firearm Owner's ID (FOID) [Illinois State] (900×900 px)
Passport (2×2 in)
Passport (digital format) (900×900 px)
PIV Card (27,75×37 mm)
Visa (2×2 in)
Visa (digital format) (900×900 px)

Vietnam

eVisa (472×709 px)
Passport (40×60 mm)
Temporary Residence Card (20×30 mm)
Visa (40×60 mm)